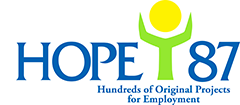 Hundreds of Original Projects for Employment (HOPE87)
Procurements - Vendor for Printing Material, Supply of Food along with catering services and Consultants for Trainings and Data Punching
Hundreds of Original Projects for Employment (HOPE87)
2524 views
Posted date
2nd June, 2023
Last date to apply
15th June, 2023
Category
Tender
Status
Closed
HOPE'87; FICP; Procurements - Vendor for Printing Material, Supply of Food along with catering services and Consultants for Trainings and Data Punching
HOPE'87 is an Austrian NGO working in Pakistan under the signed MoU with the Ministry of Interior (MOI), Government of Pakistan. HOPE'87 implementing the Skills training project named "Fighting the Impact of COVID 19 Pandemic in Pakistan (FCIP) in district Peshawar. Some of the major project activities are; general trainings, skills trainings, incubation support, provision of toolkits, job placement etc.
HOPE'87 would like to seek quotes for the below-mentioned procurements. Details are mentioned in the attached bid document for each procurement
1. Procurement 01 – Consultant for trainings
2. Procurement 02 – Vendor for supply of hall, food in trainings
3. Procurement 03 – Vendor for printing
4. Procurement 04 – Consultant for data entry
Kindly also carefully read the section "Additional requirements and conditions".
Please find details in the attached file.
Apply By:
The interested parties can submit their proposals through email at the following email IDs:
[email protected] and [email protected]
Application Deadline: Last date to submit proposal is 15th June, 2023 by 3.00 PM PST latest through email or in hard form at HOPE'87 Islamabad office, address of which is as follows:
Hundreds of Original Projects for Employment (HOPE'87)
House Number 321 (Ground Floor) - Street Number 16 - Sector G-10/2 - Islamabad - Pakistan. Tel; (92-51) 8777745, Website: www.hope87.org
Only short-listed parties will be contacted. Proposals received after the closing date will not be considered.
Any complaints/queries in regard to this procurement can be sent to [email protected] latest by June 09, 2023; responses to all queries will be uploaded on the HOPE'87 website by June 12, 2023. Individual responses to queries will not be sent to any party.