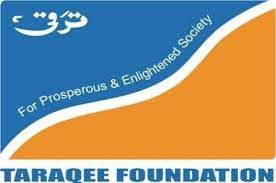 Taraqee Foundation (TF)
Taraqee Foundation (TF)
1468 views
Posted date
23rd May, 2023
Last date to apply
29th May, 2023
Category
Training & Development
Status
Closed
Taraqee Foundation (TF), Quetta is seeking applications from interested individuals/ firms for conducting trainings under ADB funded project in Balochistan
Job Title

Topic of Trainings

Location of Trainings

Master Trainer

Use, operations & maintenance of installed solar panels and drip irrigation system.
Training of farmers on management and efficient use of water.
Training of farmers on High-Value Agriculture Farming (men and women)
Trainings for farmers on cultivation of improved seed of hybrid vegetables
Training of women in processing of fruits and vegetables and value addition
Training for farmers (men and women) on agri-businesses
Training for women on livestock health, production and management.

Moola River Basin, District Khuzdar, Toor Dargah and Badanzai, District Zhob, Balochistan
The above trainings under Asian Development Bank (ADB) funded grant aims to introduce cost-effective solar-powered drip irrigation system for high-value fruits and vegetable farming, innovative skills and good practices to increase cropping intensity and women-led small-scale agri-businesses processing plants for value-added crops and livestock. The value chain development for 1,000 selected households in the Tor-Dargah and Badanzai in District Zhob and Karkh River in Moola District Khuzdar. There are three major outputs of the grant component.
Output 1: Infrastructure for high-value agriculture established.
Output 2: High value agriculture production increased.
Output 3: Community capacity for high-value agriculture strengthened.
Detailed tasks and activities:
The key areas of work and responsibilities under this TORs include extended consultations with TF project management, stakeholders and with respective community including conducting of a number of training sessions and field visits as needed and feasible.
The Master Trainer will:
Prepare modules for the two days trainings on the topics mentioned above (in the table).
Prepare handouts for the concerned trainings or use other resource material like charts, multimedia etc.
Work closely with TF team at regional and head office level in order to achieve basic consensus on scale and deliverables of the main project phase. Develop basic tools and support the program team of TF and office bearers to carry out data collection and/or implement relevant parts of the work plan. To this end, the master trainer is expected to provide monthly report to TF for endorsement. He/She will identify the gapes/suggest relevant suggestions and consolidate all collected data into a single narrative report. Follow and apply the latest BWRDSP methodological "good practice" when analyzing and assessing existing, and/or suggesting alternatives to
Water resources management issues and priorities in implantation period of project areas.
Cross-sector coordination mechanisms (composition; role, responsibility and tasks; required support mechanisms or institutional capacity building; horizontal and vertical information flow and management regarding impact of the deliverables of BWRDSP.
Stakeholder participation process (stakeholder analysis, managing participation and dialogue);
BWRDSP monitoring framework (development of indicators).
Other issues and activities as emerging and necessary.
Develop a strategy to set up and/or maintain adequate mechanisms for implementation of relevant activities in the constituency and to ensure transformation of knowledge and experience.
Support the program team in project indicators include (but not be limited to):
Project outcomes, outputs and activities.
Other elements and components, as needed, to ensure completeness and potential effectiveness and efficiency of the planned project implementation phase.
Make all efforts to support overall process of project implementation phase.
Management Arrangements, Timeline and Deliverables
The Master Trainer will work under the overall oversight of the Chief Executive TF and in close supervision of Senior Program Manager TF.
He will be responsible for overseeing the work of all planned deliverables and to proactively liaise and coordinate with all relevant staff.
Type of work includes:
Prepare modules and handouts for the trainings concerned to the Master Trainer.
Monthly facilitation visits to project area and recommendations to Senior Program Manager for
Remedies and course correction.
Exchange ideas with respective community upon intended impact of innovative activities.
The total duration of the assignment is estimated to be two and half months in total. The Master Trainer will be paid for his services per training upon completion of milestones and acceptance of specific deliverables according to the foreseen timeline as follows:
Expected qualification
■ Higher university degree in Social or Natural Sciences related to Water Management, Agriculture, Livestock - a relevant multi-disciplinary background is considered useful;
■ At least 7 years of working experience in the context of imparting trainings and preparation of source material for the relevant training.
■ Excellent and demonstrated communication, consultation, negotiation and drafting skills;
■ Good (and demonstrated) organizing skills, preferably with development project management competency;
■ Experience in development and conduction of capacity building or training activities (at community level);
■ Familiarity of working with relevant UN global/regional processes, multi- and bilateral donors, water and environmentally related NGOs, etc. an asset;
■ English fluency in word and writing is required, local language skills an advantage.
Payment Schedule:
Payments will be paid to the Master Trainer on monthly basis upon completion of his level deliverables i.e. timely submission of training report to project management.
Selection Method for Master Trainer:
Selection of Expert/Master Trainer will be finalized after scrutiny based on following criteria:
Educational Qualification (20 Marks)
Total Working Experience (20 Marks)
Experience in conducting training sessions (20 Marks)
Experience in relevant subject (20 Marks)
Report Writing and Presentation Skills (20 Marks)
Apply By:
Application Procedures:
Qualified and Interested individual Experts/Master Trainers are requested to send their CVs along with Cover Letter, proposal for services highlighting the working experience, Financial package at House No 75-A Chaman Housing Scheme Airport Road Quetta, by 29th May, 2023 before CoB or email [email protected] Only shortlisted applications will be notified.
Taraqee Foundation is an equal opportunity employer and persons with disabilities are encouraged to apply.
Taraqee Foundation has zero tolerance towards Sexual Harassment and Sexual Exploitation & Abuse.