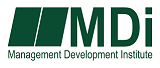 MDi Online
Registration Open for Webinar on International Online Degree Programs in Pakistan
MDi Online
2197 views
Posted date
16th January, 2023
Last date to apply
27th January, 2023
Country
Pakistan
Locations
Islamabad
Category
Educational Institutes
Status
Closed
---
Webinar on Innovative and Affordable Online Degree Programs from IU International University of Applied Sciences Germany


Friday 27 January 2023 at 7:00 PM Pakistan Time
Reserve your spot at:
MDi invites you to our webinar regarding the highly innovative online, on-campus and hybrid (start online, finish on-campus) degree programs from IU International University of Applied Sciences Germany.
For students and working professionals seeking an affordable route to a German degree and a post-study work visa for entry into the European job market, this webinar is a must!
Registration is free and there is no cost to attend the webinar.
About IU International University of Applied Sciences Germany
IU is Germany's largest private university with 100,000+ students and 21 campuses across Germany and Austria. IU offers both Bachelors and Masters degree programs in Business, Hospitality Management, Project Management, IT, Computer Science, Software Development, Data Science, Artificial Intelligence, Cyber Security, and a large number of other areas.
MDi is the official IU partner in Pakistan.

Webinar Speakers
The webinar speakers will include Prof. Dr. Muhammad Ashfaq - Academic Director International at IU, Ms. Anastasiia Koshevarova - Strategic Account Manager International Partnerships at IU and Mr. Asad Zaidi - CEO, MDi Pakistan.
These professionals bring a wealth of experience in higher education and online learning. They will talk about their perspectives on international education and share insights about the benefits of IU programs.
---
If you face any difficulty registering for the webinar, please feel free to call MDi and we will assist you with the registration.
MDi Online
Street 1-A, Kuri Road, Chak Shahzad, Islamabad
Tel: 051 8480202 | 051 8480200 | 8480201