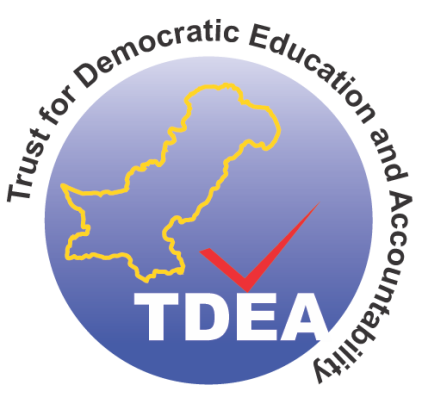 Trust for Democratic Education and Accountability (TDEA)
CONSULTANT – Social Media and Digital Communication Specialist
Trust for Democratic Education and Accountability (TDEA)
320 views
Posted date
22nd June, 2022
Last date to apply
28th June, 2022
Category
Consultancy
| | |
| --- | --- |
| Contacting Organization | Trust for Democratic Education and Accountability (TDEA) |
| Category | Individual Consultant |
| Title | Social Media and Digital Communication Specialist |
| No. of Position | One |
| Reporting Lines | The Chairperson, Sindh Human Rights Commission (SHRC) |
| Maximum Level of Effort | 60 days (spread over six months: July-December 2022) |
| Location | Karachi (Sindh) |
| Application Deadline: | June 28, 2022 |
Background:
Trust for Democratic Education and Accountability (TDEA), a not-for-profit organization, is assisting the Sindh Human Rights Commission (SHRC) in enhancing institutional capacity.
Assignment's Objective:
The assignment aims to assist the Sindh Human Rights Commission (SHRC) in rolling out its digital media strategy and enhancing visibility. The consultant will work closely with Public Relations Focal Person at the commission to prepare and finalize publications and reports, assist in the capacity development of SHRC staff, nurturing partnerships with stakeholders, including media, legislators, relevant government departments, and citizens. The assignment would require intensive involvement with SHRC's tasks.
Major Responsibilities:
Digital Media Strategy: The Specialist will help SHRC in implementing its Digital Action Plan and associated work tasks.
Creation of Communication Content/Material: The Specialist will formulate communication contents for social media, such as infographics and animations.
Media Relations: The Specialist is required to assist in developing a well-maintained contact list of journalists and media outlets covering print media, television, radio, web, etc. In addition, maintain regular contact and close collaboration with the media to do research, develop, draft and communicate news stories, success stories and case studies for SHRC. The Specialist will also be required to assist in writing op-ed pieces, articles/features on the subjects within the purview of SHRC. The Specialist will establish, document, review, and refine the communication process with media contacts, including press conferences and events, issuing media materials, etc.
Networking and Partnerships: The Specialist will help maintain relationships with relevant stakeholders, particularly print and electronic media persons, to achieve SHRC advocacy and communication objectives.
Media Products: The Specialist will support SHRC in gathering content in terms of case studies, success stories, news stories etc. from stakeholders. S/he will use the opportunity to identify/highlight program activities and results.
Training: The Specialist will train SHRC staff members in using communication tools effectively, engagement with media, document case studies/success stories, news stories, etc.
Qualifications and Experience:
Graduate degree in digital communication, journalism, or in a relevant discipline;
Excellent communications and writing skills;
Five years of work experience in similar roles;
Ability to perform successfully as a member of team;
Effective interpersonal skills;
Willingness to travel within the province of Sindh;
Proficiency in English and Urdu is required. Knowledge of Sindhi language will be an advantage;
Consultant is required to be based in Karachi.
Required documents for application and evaluation criteria:
Updated CV & Cover Letter (60 Marks)
Financial Proposal (40 Marks) should contain daily rate (all inclusive)
Payment:
Payments to the consultant will be made on monthly basis. Any payment made to consultant on account of services will be subject to withholding tax, if applicable, in accordance with the laws of Pakistan. Travel and boarding lodging expenses for field or monitoring visit will be covered by TDEA as per policy.
Apply By:
How to Apply
Interested candidates may send their applications to Procurement Unit at: [email protected] The last date of submission is: Tuesday, June 28, 2022. Only shortlisted candidates will be contacted.
Interviews of candidates will be conducted on a rolling basis to have someone on board by July 1, 2022, please send in your application at the earliest.
----------End----------