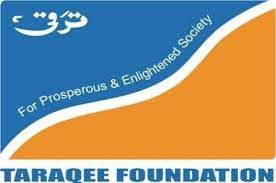 Taraqee Foundation
Enterprise Development Training (EDT)
Taraqee Foundation
891 views
Posted date
7th August, 2022
Last date to apply
15th August, 2022
Category
Consultancy
Positions
1
Status
Closed
Taraqee Foundation with the support of Pakistan Poverty Alleviation Fund and UNHCR is working on Poverty Graduation Programme for Afghan Refugees to assisting the ultra-poor and very poor in graduating out of poverty on a sustainable basis.
Enterprise Development Training (EDT) is planned to conduct for 1000 beneficiaries (Two Batches of 500 Each) for 3-days in a group of 25-30 beneficiaries in each session. The EDT will be planned for beneficiaries as per the ToRs attached.
Please find the details in the attached file.
Apply By:
Taraqee Foundation is seeking qualified individual consultant to conduct EDT at Loralai. Interestedindividuals should submit their CVs as mentioned in ToRs not later than August 15, 2022, through email address [email protected] or 75-A, Chaman Housing Scheme, Airport Road Quetta.