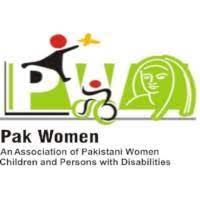 Pak Women
Pak Women
2482 views
Posted date
24th November, 2022
Last date to apply
4th December, 2022
Country
Pakistan
Locations
Islamabad
Category
Social Mobilization
Positions
1
Status
Closed
A national NGO is urgently required Social Mobilizer of its project "Improving access to income generating activities for young adults in selected slums areas of Rawalpindi and Islamabad:
Interested candidate can apply through Brightspyre before or by December 4, 2022. Only shortlisted candidate will be contacted for test and an interview.
Pak Women encourages persons with disabilities to apply. Females are also encourages to apply for this position.
1. JOB/POSITION TITLE

Social Mobilizer

Salary:

48,000 per Month

Position #:

1

2. Project

Improving access to income generating activities for young adults in selected slum areas of Rawalpindi and Islamabad

3. STATUS:

a) FULL TIME ______ b) NEW POSITION TO BE CLASSIFIED _______

PART TIME _______ POSITION ALREADY EXIST _______

4. REPORTING RELATIONSHIP:

Project Officer

5. JOBS DIRECTLY SUPERVISED:

N/A

6. Program Overview

The Joint project of an INGO and Pak Women title is "Improving access to income generating activities for young adults in selected slum areas of Rawalpindi and Islamabad. Overall objective of the project is to improve access to services and formed resilience against (Post COVID-19 impacts on young adults with and without disabilities in selected slum areas of Rawalpindi and Islamabad.

7. Overview of the Position:

The position of Social Mobilizer is responsible for organizing the communities, youth with and without disabilities in form of six Organizations of Persons with Disabilities (OPDs), 30 Self Help Groups (SLGs) and 60 Informal Saving and Loan Groups (ISLGs) , raising awareness, and organization of project activities. S/he would also support the trainings, and will ensure consistent high quality community mobilization services. Social Mobilisers one key role will be identification and selection of project beneficiaries as per pre defined criteria.

8. Roles and Responsibilities:

To coordinate conduction of baseline and end line and need assessments, feasibility studies, stakeholder analysis and community consultations.
Formation or reactivation of organizations/ groups.
Organization of meetings of OPDs, SHGs and ISLGs. Checking of all organizations records and documentation and ensure that all documents are updated.
Actively involved in identification, assessment, and verification.
Supports the development of agreements and MoUs with committees or other civil society groups.
Mapping of Technical, Vocational Education and Trainings (TVETs) Institutes and enrollment of youth with and without disabilities in selected TVETs after signing of MOUs.
Door to door mapping of youth with and without disabilities and their families micro and small enterprises affected as a result of COVID 19 pandemic.
Elaborate all needs based inputs and all other activities according to the objectives of the programme and the beneficiary involvement strategy of Donor and Pak Women.
Social mobilization for effective use of the community resources.
Community mobilization and prioritizing of field work.
Remain in close contacts with the key members and pass on immediately their concerns and issues to respective program team for timely solution.
Facilitates the capacity building and setup of representative committees.
Ensure, through daily dialogues and consultations that the strategy of the projects and the commitments of the various stakeholders are adhered to.
Responsible for mainstreaming gender
Maximize beneficiary contribution.
Follow up of businesses revive, strengthened due to provision of seed grants and loan from ISLGs internal savings.
Arrangements and participation in kits distribution and maintain data in both hard and soft
Supports in the development as well as distribution of Kits/materials for all activities implemented.
Should develop in-depth knowledge of all their intervention and should have close contacts with community leaders, volunteers, and activists.
To ensure that women and persons with disabilities are included in decision-making process.

9. Requirements (Education, Experience, Skills, Languages.):

Bachelor's degree in social sciences, , or related field (advanced degree preferred)
Minimum of 2 years of experience (3+ years of experience strongly preferred) with NGOs and INGOs for funded development projects focused on livelihoods (preferably with experience related to on-farm, off-farm and employment livelihoods), resilience, and vulnerable household, preferably in the Pakistan context
Demonstrated ability to work and coordinate effectively with a wide variety of stakeholders, including national and local government, donors, community-based organizations, and the private sector
Experience in project management and reporting
Demonstrated oral and written English skills; proficiency in English is desired.
Ability to travel within project areas as required

b) PERIODIC DUTIES AND RESPONSIBILITIES:

Preparation of monthly action plans on specified format and submission to the project manager
Participation in fortnightly and monthly progress review and action planning meeting at head office.
Help project manager and operations in finalization of monthly progress report
To attend any capacity building training arrange by Pak Women or donor or any other organization, relevant to his/her job.
To attend any outside meetings and workshop when and where required, relevant to his/her job.
Help project manager in preparation and finalization of project completion report.

10. DOCUMENTATION/ ANY OTHER FACTORS:

Documentation:

Submission of meeting minutes to project manager of all meetings with all stakeholders
Develop case studies and success stories of training participants
Submission of all trainings reports
MOVs submission of all trainings
Monthly action plans/Event Planner
Any other relevant to job and required
Use of PC/Laptop, internet, attend emergency meetings, trainings, workshops, seminars, visit to other areas, exposure visits, out of country visits etc.