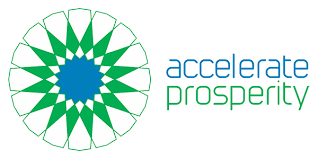 Accelerate Prosperity
Accelerate Prosperity
887 views
Posted date
30th January, 2023
Last date to apply
5th February, 2023
Category
Accounting/Auditing
Type
Consultant
Position
1
Status
Closed
FOR ACCELERATE PROSPERITY REGIONAL ACCELERATION PROGRAM SLINGSHOT
Accelerate Prosperity (AP) is a joint initiative of the Aga Khan Foundation (AKF) and Industrial Promotion Services (IPS) of the Aga Khan Fund for Economic Development (AKFED) in Central and South Asia. It aspires to work towards a society that is powered by innovative and successful young entrepreneurs. Through its services, AP extends tailored training, advice, and technical assistance to aspiring and existing entrepreneurs to help them launch or expand their innovative business ventures. It also extends tailored financing to start-ups and SGBs to help them unlock external investments by improving their bankability and investment readiness.
Accelerate Prosperity is looking for a marketing firm to providegraphic design, content production, and other digital services for pre, during, and post marketing of AP'Sregional acceleration program.
The firm will be responsible forprovidinghigh-quality design materials, animations, and short video content required by AP for marketing the program.
KEY OUTCOMES/ SCOPE OF WORK
The marketing firm will provide all design and marketing materials for the AP's regional startup program Slingshot.
The firm/ company is expected to:
Design of social media content (static, animations, gifs, etc.)
Produce short videos (actors, set, aftereffects, animations included) to be used for marketing

Design brochures, pamphlets, email cover images, thumbnails, and other materials
Firms/companies are eligible to apply. The required capacities include:
Financial Bid _________________50 Marks

At least 2-5 years of experience in graphic design, video production, designing marketing campaigns, branding, designing relevant templates. _________20 Marks

A functional team of field experts likegraphic designer, videographer, editor, aftereffects expert, etc. to be able to deliver the wide range of marketingmaterialrequired. ____20Marks

Are based in Islamabad.___________10 Marks
100% payment on submission of all deliverables
Tentative project engagement starts 10 Feb 2023
Tentative Contract time:2months
February 5, 2022, 17:00 PST
Apply By:
Company profile, portfolio and profile/CVs of team members can be sent to the following email address at [email protected]
And send a financial bid to be generated against the list of deliverables (attached below) in a sealed envelope against t to the following postal address:
Manager Finance and Administration,
Accelerate Prosperity Office Professional Development Centre North (PDCN), Konodas Gilgit.