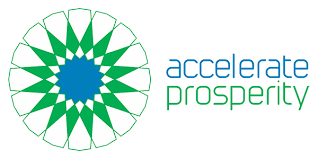 Accelerate Prosperity
MARKETING FIRM REQUIRED FOR "TECHNICAL ASSISTANCE TO AP PORTFOLIO BUSINESSES
Accelerate Prosperity
633 views
Posted date
21st September, 2022
Last date to apply
2nd October, 2022
Category
Sales and Marketing
Type
Full Time
Positions
1
MARKETING CONSULTANCY SERVICES
FOR ACCELERATE PROSPERITY'S PORTFOLIO BUSINESSES
Accelerate Prosperity (AP) is a joint initiative of the Aga Khan Foundation (AKF) and Industrial Promotion Services (IPS) of the Aga Khan Fund for Economic Development (AKFED) in Central and South Asia. It aspires to work towards a society that is powered by innovative and successful young entrepreneurs. Through its services, AP extends tailored training, advice, and technical assistance to aspiring and existing entrepreneurs to help them launch or expand their innovative business ventures. It also extends tailored financing to start-ups and SGBs to help them unlock external investments by improving their bankability and investment readiness.
PURPOSE OF CONTRACT
Accelerate Prosperity is looking for a marketing firm or group of marketing consultants to provide digital marketing services to AP's financed businesses. The firm will be responsible for providing a customized services package to each business based on a need assessment report. The marketing firm/company will ensure quality engagement, increased reach, and growth in the digital presence of these businesses as well as train the relevant team members in best practices. Training entrepreneurs will ensure they are able to carry out digital marketing on their own once the contract is over.
KEY OUTCOMES/ SCOPE OF WORK
The firm/ company will be required to conduct a need assessment of the businesses and provide a tailor-made digital marketing activity plan for each business. Some of the services in this plan may include one or a mix of the following (subject to business needs):
Creation of business-relevant social media profiles if they do not exist already
Basic branding (logo design, social media profile covers, etc) if needed
Social media management (post design, copywriting, scheduling/posting) across all platforms. An ideal and reasonable number of posts per week would be 3-4
Search Engine Optimization (SEO) to improve the visibility of business
Running of effective ad campaigns to ensure quality engagement and improved reach in business-targeted areas
DELIVERABLES
The firm/ company is expected to:
Provide digital marketing and branding services for 20 businesses over 6 months
Generate a need assessment report for each business
Generate a monthly activity and performance report
Weekly one-on-one sessions with entrepreneurs to keep them updated on the content, engagement strategy, and progress
Produce a monthly performance report for the entrepreneur and AP
ELIGIBILITY CRITERIA
Firms/companies are eligible to apply. The required capacities include:
At least 2-5 years of experience in digital marketing, designing marketing campaigns, branding, working on startup and small business accounts, and designing relevant templates.
A functional team of field experts like social media managers, graphic designers, SEO experts, etc. to be able to carry out a wide range of activities for portfolio businesses.
RESULTS-BASED PAYMENT
30% payment upon submission of needs assessment reports
40% payment upon interim progress report
30% on submission of all monthly performance reports & closing reports
PROJECT TIMELINE
Tentative project engagement starts: 15th October 2022
Tentative Contract time: 6 months
Apply By:
SUBMISSION DETAILS:
Original sealed documents including financial bid, company profile, portfolio, and profile/CVs of team members can be sent to the following postal address:
Manager Finance and Administration,
Accelerate Prosperity Office Professional Development Center North (PDCN) Konodass Gilgit.
DEADLINE:
October 02, 2022, 17:00 PST